Kohlrabi Fritters with Avocado Sauce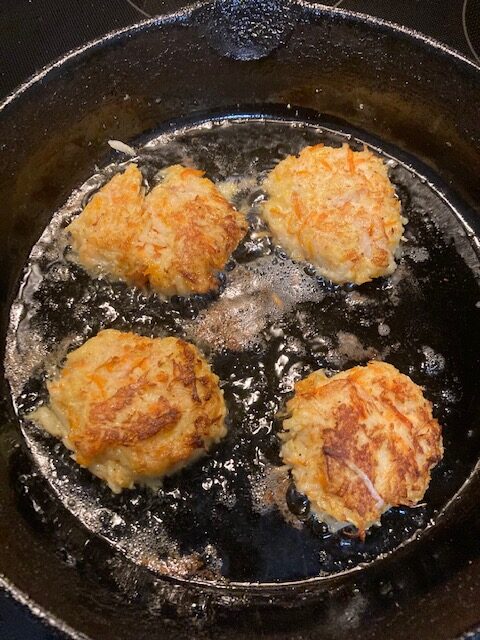 Ingredients
2 kohlrabi
1 carrot
1 egg
1/4 tsp salt
1/4 tsp cayenne
1/2 grapeseed oil (enough for 1/4″ depth in a large skillet (Use an oil for high heat, like grapeseed oil or coconut oil)
1/2 avocado
1/4 cup plain yogurt
1/2 onion, minced
1/2 lemon
1/4 tsp salt
Green onions for garnish
Directions
Cut the leaves off the kohlrabi (save the leaves to cook) and peel the bulb.
Peel the carrot
Shred the vegetables in a food processor or by hand using a grater.
Squeeze the shredded vegetables in a tea cloth or with your hands to remove moisture.
Add to a bowl with the egg, salt and cayenne, minced onion and mix to combine.
Place the oil in a large skillet and heat to medium high heat.
Place small patties of the fritter mixture into the oil.
Fry on one side until light browned and flip to continue cooking.
Remove and place on a plate lined with a paper towel to drain excess oil.
For the sauce scoop out avocado and in a bowl combine with yogurt, lemon juice and salt to make the avocado cream sauce (or blend in a food processor if you like)
To serve, slice the green onion and serve with the fritter and cream sauce.
Note: Best when served warm
Recipe adapted from A Couple Cooks recipe