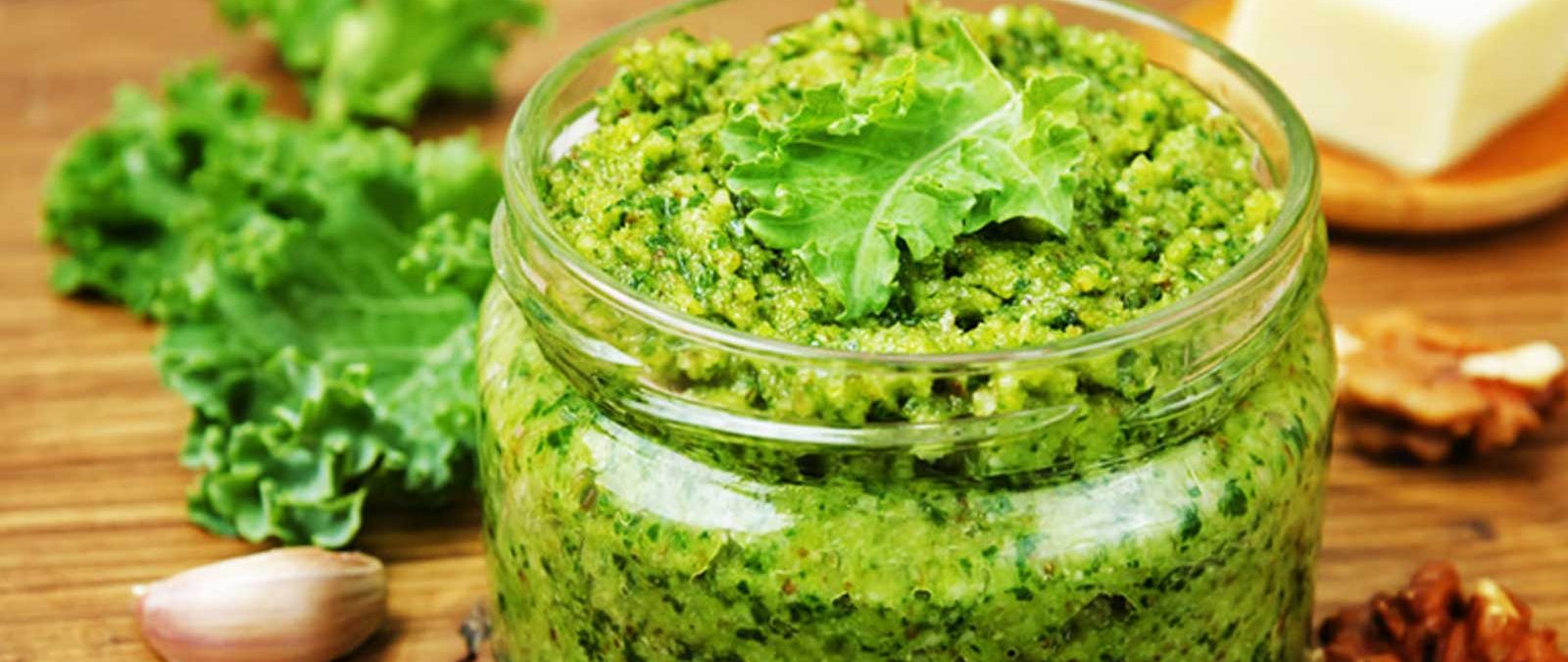 Pesto, how you love it!
Have you been thinking about how you can't wait for warm days to return so that you can make that delicious basil pesto that you love so much? Don't despair, you can use kale which is plentiful in gardens this winter to make a delightful pesto.  Not only is it delicious but also nutritious.
Toss this pesto with pasta for a nutritious meal or use as a dip or spread.
To toss this with pasta, cook pasta according to package directions then just before draining, reserve 1/4 cup of the pasta water. Toss the drained pasta with a few tablespoons of the reserved pasta water and a few tablespoons of pesto. Add more or less pesto depending on your preference.
Delicious to add some roasted sweet peppers, some sun dried tomatoes or even some kalamata olives.  You add your favorites to make this a dish to enjoy!
Kale adds lots of nutrition to your meal or snack.
At just 33 calories, one cup of raw kale has:
Nearly 3 grams of protein.
2.5 grams of fiber (which helps manage blood sugar and makes you feel full)
Folate, a B vitamin that's key for brain development.
Alpha-linolenic acid, an omega-3 fatty acid.
Yield: 4
Ingredients
1 large bunch of kale, wash and remove stems
1/2 cup raw almonds
2 cloves garlic, roughly minced
1/2 teaspoon salt
1 teaspoon red pepper flakes
2/3 cup olive oil
1/2 cup Parmigiano-Reggiano Cheese or Parmesan
Directions
Bring a large pot of salted water to a boil. Add kale and cook 5-10 minutes. Drain and pat dry.
In the meantime, preheat oven to 350 degrees F  then add almonds to a baking sheet and bake until lightly toasted, about 5-10 minutes but watch closely to be sure that they don't burn.
Add kale, almonds, garlic, salt and red pepper flakes to the bowl of a food processor. Pulse 3 times then slowly pour olive oil into the bowl while the processor is running. Stop to scrape the sides a few times.    Add the pesto to a bowl with cheese, mix well. Taste for seasoning and add salt if necessary. To store, top with a thin layer of olive oil and cover with plastic wrap. Store in the refrigerator up to 3 days.
Optional:  If you want to keep this dish plant-based use nutritional yeast to give a cheese flavor instead of the Parmigiano-Reggiano Cheese or Parmesan.