Community Supported Agriculture – Farm Co-Op
A subscription to fresh food every week
Vegetable CSA Memberships


Spring: 10 Weeks – April 7th through June 10th
Summer: 10 Weeks – June 16th through August 19th
Fall: 10 Weeks – October 6th through December 9th

Annual: 30 Weeks – April 7th through August 19th, then October 6th through December 9th

How It Works:
1. Choose a seasonal or annual membership.
2. Choose how many vegetable shares you would like each week. A "Share" is an average package of vegetables you might see at a grocery store. Examples of a share: 1/2lb bag of salad mix or 1 bundle of carrots
3. Choose a pick up day. CSA pick up days are Wednesdays and Thursdays, between 1:00 and 7:00 pm.
4. Check out with your credit card. That's it!

At the farm each week, we will have 8 to 10 different fruits and vegetables displayed farmers market style, or you can place an order online by clicking "Manage My Account" and "Choose CSA Products". When you arrive each week, you can choose from our variety of vegetables and fruits, or if you ordered online, your vegetables will be packaged and ready for you, and can be brought out curbside to you. Simply pick out what you'd like according to the number of shares you signed up for, and don't forget your free herb bundle!

In each 10-week session, you may skip one week and make it up later. Please let us know if you need to use your skip at least 3 days ahead. Some people give their week to friends or family if they are not able to come. You can also change the day of the week you pick up if needed, just drop us a text or email.

If you would like the entire amount to go to the farm instead of processing fees, you can still pay by Check or Cash at the Farm Stand or by mail to: 2050 Hwy 154 Newnan, GA 30265.

Purchase your CSA Membership for all 3 sessions before April 1st and receive a discounted price. (*Minimum of 4 shares required).

If you need more than 8 shares, please contact us.
Milk Subscriptions

Do you love fresh, farm raised food? With the Country Gardens Farm Subscription service, you never have to worry about supplies running low because we reserve your weekly order for you! Sign up for as much milk and/or eggs you need on a weekly basis, choose your weekly pick up day, and pay up front for the month. Your subscription will automatically renew every four weeks, or you can cancel at any time. No more worries!


Egg Subscriptions
How to Sign Up:
Choose how much eggs or milk you need. If you need more than one, you can increase the quantity. If you need both a half and a whole, add each one to your cart separately.
Next, choose the pick up day you would like. If you need to change your pick up day in the future, just drop us a text or email and we'll take care of that for you.
Lastly, check out with your credit card. It's that easy! You can manage your subscriptions from your account on the Country Gardens website by clicking "Manage my Account".
General Information
The term CSA stands for Community Supported Agriculture. CSA members commit to buying a certain amount of produce from the farm during a session. This enables us as farmers to better plan our production because we know we have a sure market for what we are growing. Each week's produce may be different … like a surprise package of fresh, nutritious fruits and vegetables!
We are committed to growing your vegetables in a sustainable manner using organic methods and environmentally sound farming practices. We are dedicated to growing our crops so that they are nutrient dense, meaning that they are the freshest, healthiest food you can get. If you ever have any questions about the farm or our growing methods we invite your questions and can arrange visits to the farm.
We occasionally buy fruits and vegetables from other farms in order to give our CSA members an enhanced selection. These farms practice the same organic methods that we do. The only exception to that last year was the apples we bought from Beech Creek Farm in Tallapoosa, Georgia. The apples were not organic, but the farm follows a low spray program. Everyone enjoyed their apples last season.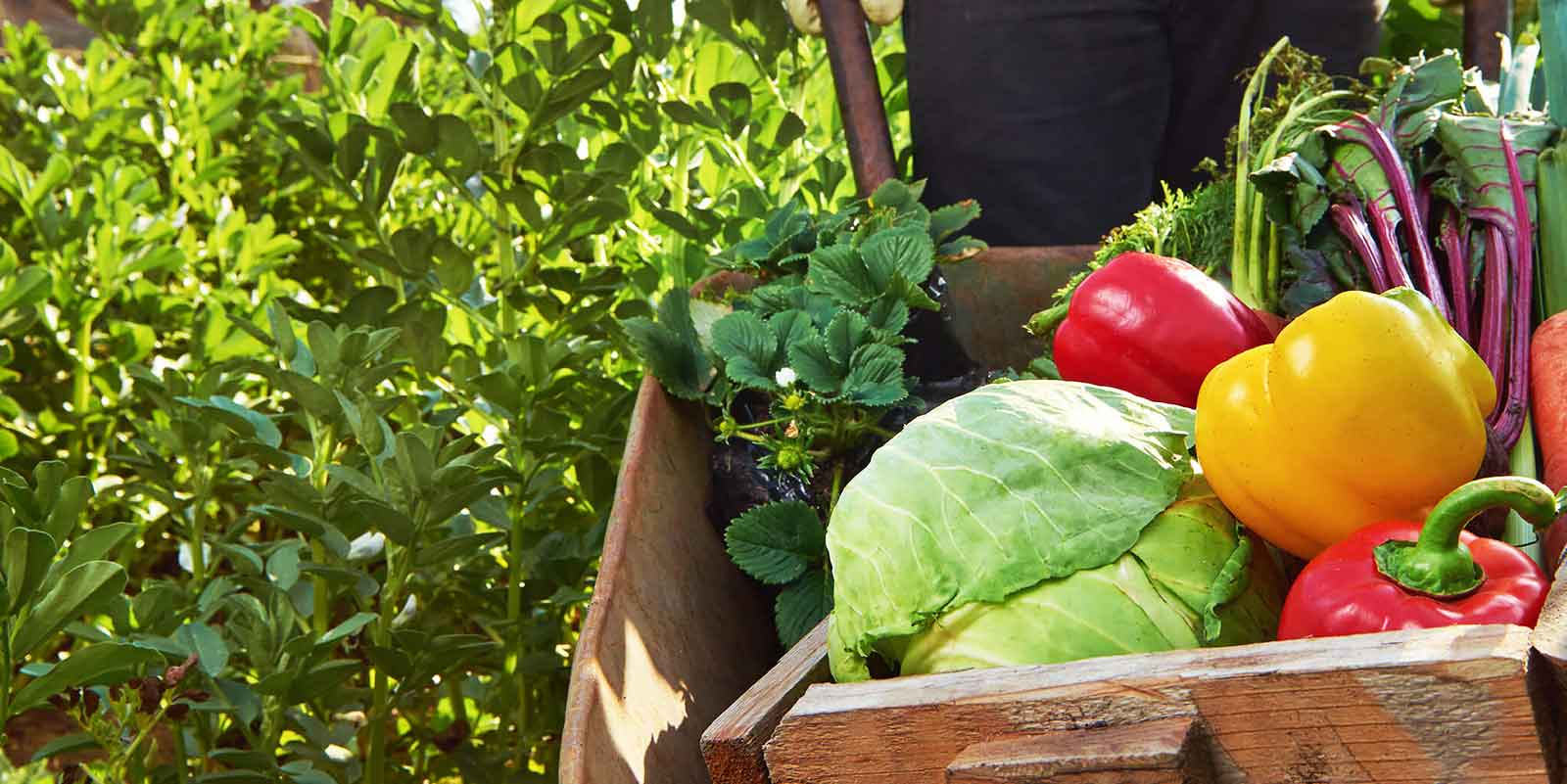 For CSA questions, please contact Mike or Judy Cunningham at mikec@countrygardensfarm.com or call 770-251-2673 or 404-944-7851.
List of Vegetables We Produce Each Season
This list reflects the vegetables we usually grow each season, though items may vary. The produce items are listed by their general harvest time. Note: Not every item will be available each week.
| Spring Session (April – June) | Summer Session (July – Sept) | Fall Session (Sept. – Dec) |
| --- | --- | --- |
| Sugar snap peas | Squash (yellow & zucchini) | Baby greens mix |
| Cabbage | Green Beans | Field Peas |
| Squash (Yellow & zucchini) | Tomatoes | Spinach |
| Broccoli | Peppers Sweet | Eggplant |
| Bokchoy | Peppers Hot | Sweet Potatoes |
| Lettuce | Eggplant | Peppers Sweet |
| Kale | Potatoes | Peppers Hot |
| Collards | Onions | OkraArugula |
| Swiss Chard | Cucumbers | Butternut Squash |
| Kohlrabi | Okra | Winter Squash |
| Spinach | Butterbeans | Lettuce |
| Carrots | Field Peas | Malabar Spinach |
| Beets | Lettuce | Salad turnips |
| Radishes | Malabar Spinach | Radishes |
| Tomatoes (June) | Apples | Mild mustard greens |
| Arugula | Figs | Canned pepper sauce |
| Onions | Muscadines | Collards |
| Turnips and Turnip greens | Blueberries | Bokchoy |
| Potatoes | Herbs | Muscadines |
| Cucumbers | | Apples from Beech Creek Farm |
| Baby greens Mix | | Beets |
| Herbs | | Broccoli |
| | | Turnip Greens |
| | | Cabbage |
| | | Swiss Chard |
| | | Carrots |
| | | Herbs |